Well! And people said I was nuts when I claimed to have found
a bonus stage years ago with different cloud graphics. So without
further ado...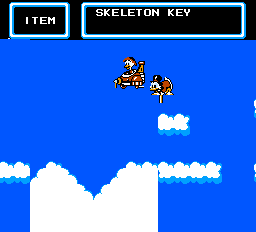 Looking at it now, it appears to be an unintentional glitch, as
I'd hardly call those clouds a smooth transition (note that you
can indeed still walk on them, however). There also may be more
than one variation to this glitch, as my memory says the bonus
stage was much longer than the regular stage, but the version from
the above screenshot is actually much shorter.
First of all, I owe my thanks to my fellow FeFeA Brother Smeg,
for rediscovering this glitch for me. Although we're not 100%
sure how this glitch is triggered, Smeg was able to do it on two
different occasions by taking a ride to the bonus stage with
Launchpad from the Amazon after beating the Himalayas,
Transylvania, and the African Mines (in that order).

To save you, the viewer at home, the trouble of doing this, Smeg
created an NES savestate that accesses the glitch. Note that the
savestate was made for the FCE Ultra emulator. Download it here.