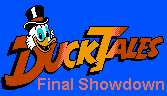 I'll hold nothing back, kids. You will see the shocking conclusion of Duck Tales in all of its splendor. If you're too much of a wuss to handle the intensity that is the ending of Duck Tales, hit the back button on your browser, and go tell mommy your diaper needs changing. For the rest of you, prepare to be dazzled!
PART 1 - "The Set Up"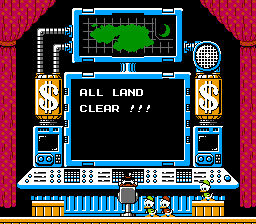 | | |
| --- | --- |
| Prototype | Final Release |
| | |
Got all the treasures? Not so! Glomgold, through an
inexplicable act of, um, evildoing, magically transports
your finds back to Transylvania, where it is guarded
by the dreaded DRACULA DUCK. C'mon Capcom, even something
as stupid as "Duckula" would've been better (oh wait,
that's another cartoon). So once again we trudge back to
the god forsaken ghost house of Transylvania. I won't even
try to make sense of it any more.
PART 2 - "Battle of the Fogeys"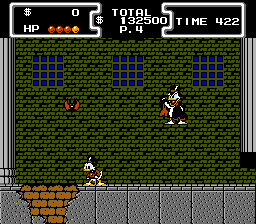 Dracula Duck is actually quite a bit harder in the
prototype. Y'gotta pogo off the bats he tosses at
you, and then pogo onto him. In the proto, the
bats overreact to your own jumping, and more often
than not, they fly out of pogo range. They're a
bit slower to react in the final version, thus
defeating any sense of challenge the game might
have possessed.
| | |
| --- | --- |
| Prototype | Final Release |
| | |
Cursed Glomgold! How dare you stick my treasure atop
a giant podium and then leave it so I have an easy
chance to take it back!
PART 4 - "The World is Safe Once Again"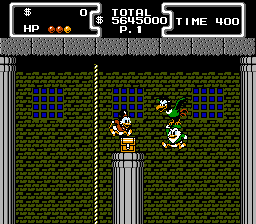 Hooray! Now for the greatest part of the game, which
of course, is the ending cut scene. For your viewing
convenience, click here to see the game's ending in
the prototype, and then compare it with the ending
in the final version. Animation Shop messed up the
colors a bit, but I'm too lazy to fix 'em. I'll
only say one thing about the prototype's ending:
LOVE AND PEACE!

PART 3 - "Oops We Skipped Part 3"

| | |
| --- | --- |
| Prototype | Final Release |
| | |
Depending on how many hidden treasures you find, or
just how much wealth you accumulate, the headlines
will be different. I'm way too lazy to play through
both final and proto version multiple times to show
each variation... but thankfully the good people at
The Cutting Room Floor are not lazy at all, and took
the alternate ending screenshots below.
Alternate Ending 1 - Finding the Two Lost Treasures

| | |
| --- | --- |
| Prototype | Final Release |
| | |
If you manage to find the two "optional" treasures
along the way, (and make a ton of money in the
process) you'll be given this "best" ending with
Scrooge on top of a pile of riches and a
different newspaper headline.
Alternate Ending 2 - The "Moral" Victory

| | |
| --- | --- |
| Prototype | Final Release |
| | |
Behold! The fabled "bad ending" to Duck Tales that
is somehow incredibly more difficult to achieve than
the normal endings. All credit goes to The Cutting Room
Floor for figuring out how to access the "Scrooge went
broke" ending. They put together a video showing how it's done, which I've included below: